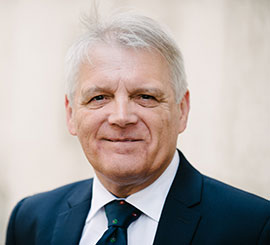 Steve spent the whole of his 39 year career in local government; starting in his home town of Preston in 1978 and working in locations as disparate as Cumbria, Pembrokeshire and two District Councils in the East Midlands. The last twelve years were as Chief Executive for Hinckley and Bosworth Borough Council in Leicestershire, where he enjoyed great success in running a highly effective and efficient operation (ranked as 'Excellent' by the Audit Commission) and which completed a major regeneration of the main town and remained financially sustainable.
Steve played a significant role in the development and growth in national influence of the District Councils' Network (DCN) – a body representing the 201 Districts in England – chairing the Chief Executives' Board (2011-2013) and combining the role of DCN Director with the 'day job' for a six months, following the General Election in 2015 – a period he described as the highlight of his career.
Since 2013, Steve has been a Trustee and is now Chair of Emmaus Leicestershire and Rutland, part of an international charity, providing accommodation, work and self-respect for homeless people. Since his (semi) retirement in December 2016, Steve operates a management consultancy with his wife, Jennifer, whom he married in 2002. He is an Associate of DragonGate Market Intelligence and a founder member of the BBI Advisory Board.
Steve has two sons, Peter and David, both in their 30s, and five grandchildren.